Tracy Aquatic Center – (507) 629-5537
A multi-pool design features flumes, slides, fountains, "funbrellas," areas for lap swimming, diving, and a large beach-like "splash" pool with "zero depth entry." All pools are heated. New amenities include sand volleyball courts on the west, a new concession stand with complete lunch service, and a sandlot play area enclosed in the pool facility. The bathhouse interior has been completely refurbished. Right: Featured are the "Zero Depth Entry" pool, the slides (center), and (bottom) lap pool.

Tracy Community Education and Recreation offers American Red Cross-approved swimming lessons during three different sessions, June, July and into Aug. Make-up sessions are held the week after each regular session. Levels offered are 1-7 (Tiny Tots through Advanced Swimmers), Infant Aquatics, Water Aerobics, Pre-Lifeguard Training, and Lifeguard Training. Water aerobics workouts will be scheduled; the hours, dates, and fees will be announced.

Early Swim and Senior Swim are offered for lap swimmers. Season passes and coupon books are available for purchase.
Lifeguards are on duty during pool hours.

Morning swim hours are 7-9 a.m. Monday thru Friday
Open swim 1-7 p.m. seven days a week
Water aerobics 8 a.m. Monday thru Friday

Party! Several open pool parties are scheduled during the summer, with dates posted at the pool. The pool may be rented for a private party, call 629-5537 for details.
---
Wheels Across the Prairie Museum
West Highway 14. Picnic tables, many attractions to look at, a restored four-unit freight train that includes a 1915 switch engine and coal tender, a turn-of-the-century boxcar and a Chicago & Northwestern caboose.

Other attractions include a Chicago & Northwestern depot, a country school, a small-town post office, summer kitchen, chapel and blacksmith's shop. The museum's main barn has many small exhibits on display over two floors. The car barn features everything from horse-drawn farm equipment to antique tractors. There are also, a restored original log cabin and a local town hall that was originally a schoolhouse. St. Marks Church (built in 1901) was moved to the site in Dec. 2006. Open: Memorial Day through Labor Day.
---
Tracy City Parks
Central Park – Second and Rowland Streets. Roofed picnic shelter, lighted tennis courts, playground equipment, band shell, bathrooms, ice rink warming house.
Greenwood Park – Greenwood and Adams Streets. Playground equipment, basketball net and board, softball field with a backstop.
Nehl's Roadside Park – Highway 14. Picnic shelter, place to pitch horseshoes.
Sebastian Park – East 2nd St. and Elm Street. Playground equipment, picnic tables. Public Pool, opens first week in June, lessons available during summer.
Softball Complex –Behind North Star Modular Homes on Highway 14. Two softball diamonds (including outfield fences and backstops), concession stand, bathrooms, picnic tables, sand volleyball court.
Tornado Tree – Highway 14 and 5th Street. Dedicated to the nine people who died in the June 13, 1968, Tracy Tornado. The Tornado Tree, a gnarled elm that withstood the force of the tornado, originally stood at the corner of 5th and Rowland Streets. A steel sculpture replica of the original Tornado Tree was erected in 1989.
Werner Park – First and Hollett Streets. Playground equipment, picnic tables.
Swift Lake Park – On the north edge of Tracy on county road 11. About 23 acres. Swift Lake is stocked with panfish. Handicapped-accessible fishing pier for shore fishing. Camping: 10 electrical hookups, some primitive sites; bathrooms and showers. Other Amenities: Roofed picnic shelter, playground equipment.
---
Garvin Park
1 mile north of the intersection of Hwys 14 and 59, on Hwy 59. The Lyon County park's heavily wooded 700 rolling acres include rugged hills and grassy meadows. The Cottonwood River runs through the park. Garvin Park has marked trails for hiking and horseback riding in the summer. The area is popular for picnicking and camping. The Garvin Park tubing hill, equipped with a towrope and a warming house, attracts winter enthusiasts. Marked snowmobile trails are a part of an overall snowmobile trail that runs through Lyon County.
Camping: Four campgrounds with 50 total campsites, most of them with electrical hookups, shower facilities, and campground host program. Dump station available. Camping fees are $10 per night; $15 with electric hookup.
Hunting: Spring turkey season, eight 5-day seasons from mid-April through mid-May, park closed to all other visitors until noon during turkey hunt; archery deer season from mid-September through Dec. 31, either sex, no permanent stands. Hunting is by permit only.
Other Amenities: Five large picnic shelters with tables (4 with electric), shower facilities. Softball field and lookout tower. 2-1/2 miles of hiking trails; 5-1/2 miles of horse and snowmobile trails and 2-1/2 miles of cross-country skiing trails. Horse staging area with camping facilities. Warming house may be rented for parties/meetings at $50 per day.
Information: Garvin Park, Garvin, MN 56132, 507-629-4081
---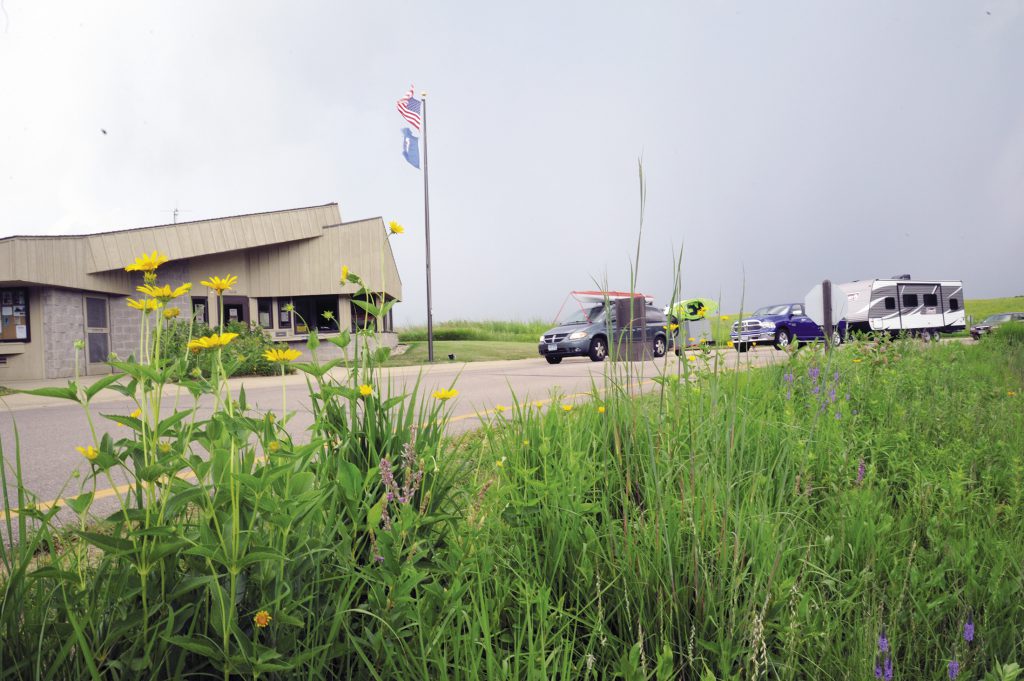 Lake Shetek State Park
Currie, Minnesota • 13 miles south of Tracy on county road 11/38. The word "Shetek" is Ojibwe for "pelican," a bird which visits Lake Shetek during the summer and fall.
The park contains the largest lake in southwestern Minnesota, which forms the headwaters of the Des Moines River.
Expect great fishing for walleye, northern, crappie, and bullheads. Loon Island, a 45-acre bird sanctuary, is accessible on foot via a causeway and includes an interpretive trail.
Visit the Koch Cabin and monument memorializing pioneer settlers. The park includes a swimming beach, boat launch, campgrounds, and a scenic six-mile loop bicycle trail into the town of Currie. Boat, canoue, and kayak rentals are available.
Facilities:
Campgrounds 107 semi-modern campsites
66 electrical (Wolf Point Campground)
8 rustic cart-in sites
12 rustic campsites (Prairie Campground)
one primitive group camp (Wilderness camps)
Zuya Group Center; 80-person capacity
Picnic area with 2 shelters (1 winter warming shelter)
Boat and canoe launch
Rowboat and canoe rental
14 miles of hiking trails
5 miles of snowmobile trails
3 miles of ski trails
Playground, horseshoe and volleyball courts, activity field (equipment loan)
Visitor Favorites Swimming beach
Koch Cabin
Loon Island
Fishing ponds
Interpretive center
Nature Store
Shetek Monument
Eastlick Marsh observation deck with spotting scope
Woodland, marsh and prairie hiking trails
For more information on Lake Shetek, see the Minnesota Department of Natural Resources Web site on Lake Shetek State Park.
---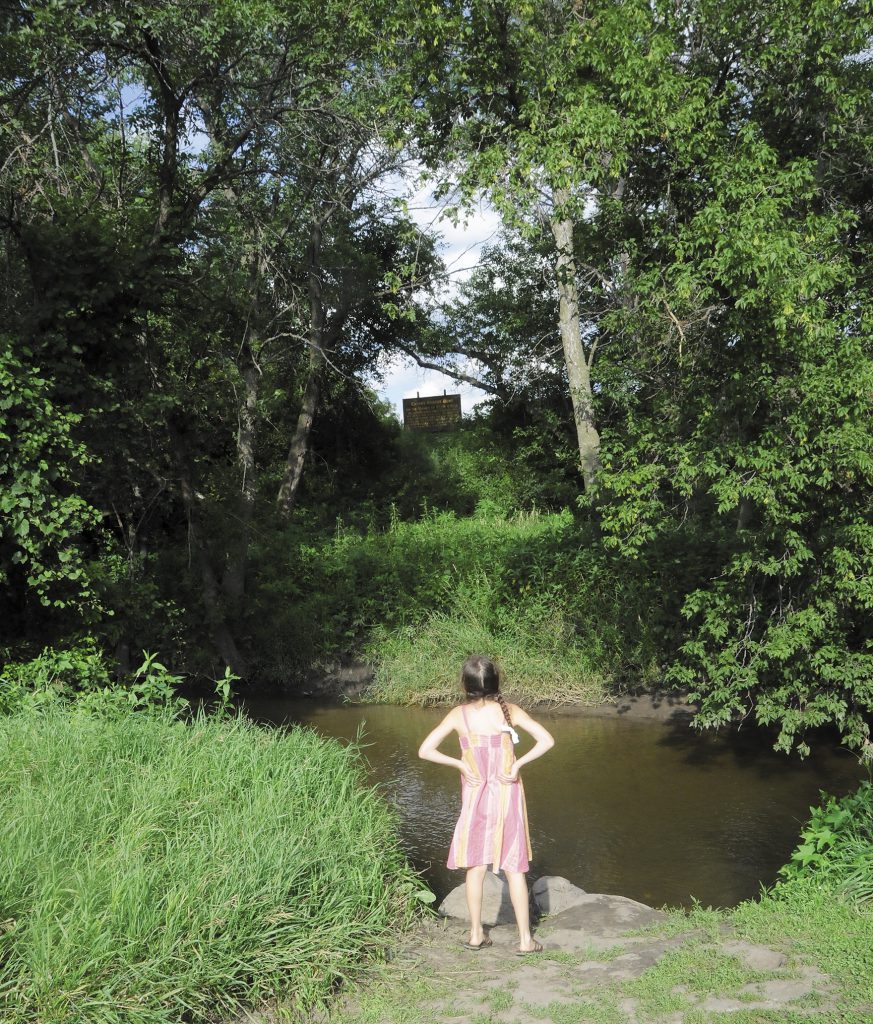 The park's 205 acres fall into two separate areas, the Upper Park and the Lower Park. Both have large shelter houses available to families and organizations. In the winter your family can be entertained by the many walking trails and winter sledding. Call 888-528-7268 for more information.
The Upper Park: Located near Lake Laura, it includes a full-facility campground with electrical and water hook-ups for 70 sites, bath and shower facilities.
The Lower Park: Baseball and softball diamonds are busy with regular games all season. Tournaments are held at various times. Amenities include concession stands, playground and bathroom facilities.
Lake Laura: This man-made lake is stocked with fish. Swimmers can change in a large bathhouse. A gazebo overlooking the water presents a panoramic view of several miles. Shoreline fishing is great. Boats are allowed for fishing, but not for waterskiing.
From west Highway 14, in Walnut Grove, turn south 1 block and after crossing the tracks, take a right onto Co. Rd. 20. Drive one mile west, then turn south onto County Road 78 for 1 1/2 miles
www.walnutgrove.org